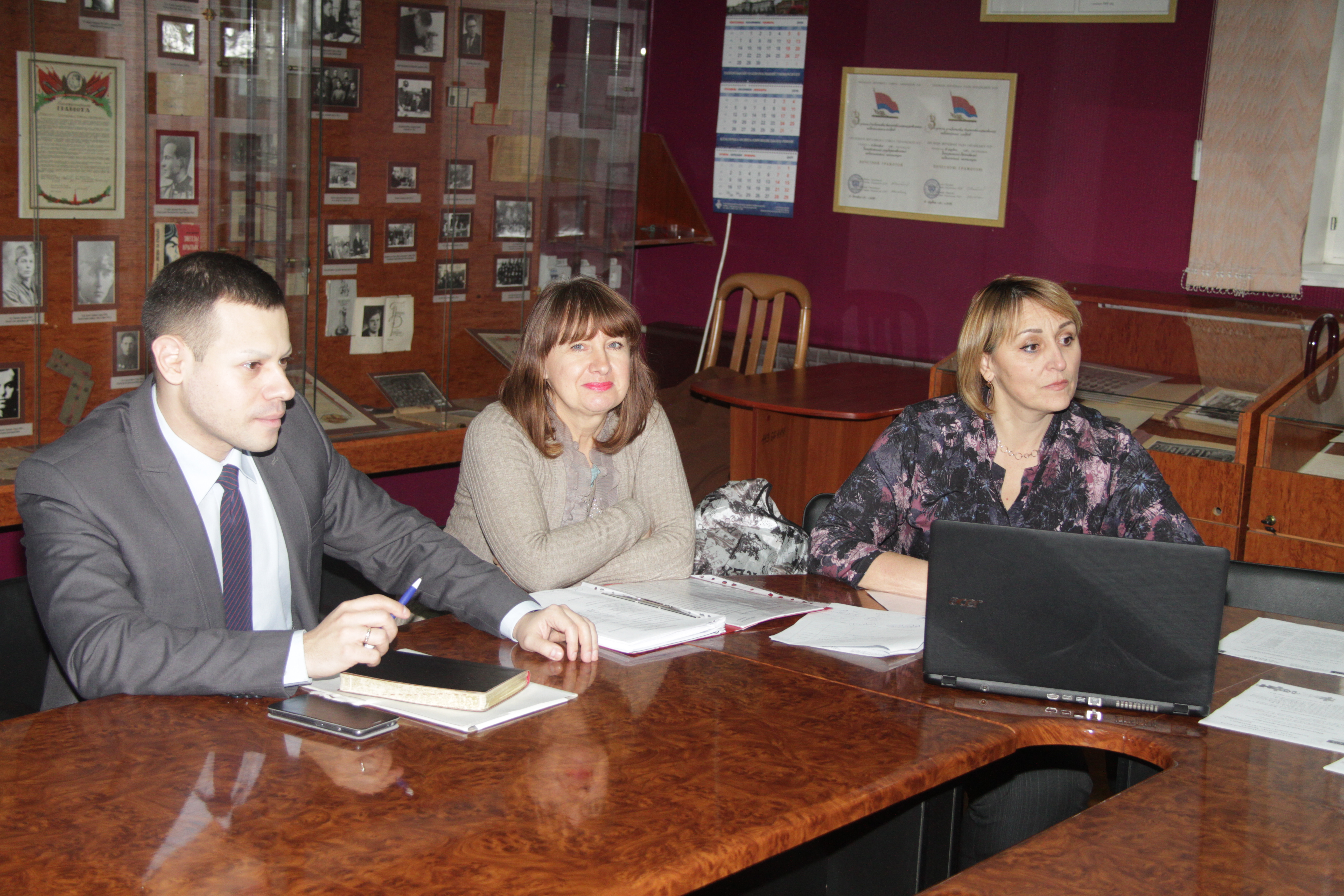 The meeting of key staff members of the project initiated under the Jean Monnet Activities within the ERASMUS+ PROGRAMME was held in Zaporizhzhya National University on December 1, 2017. It was presided by Oleksandr Gura, vice-rector for scientific and educational work. At the meeting the first results of the project preparatory stage were outlined and the main activities of the active implementation phase were defined.
At the beginning of the meeting Lesia Zhurakovska, academic coordinator of the project, associate professor of Faculty of World History and International Relations, reported about her participation in Biennial Jean Monnet Conference held in Brussels, November 27-28 2017. She shared valuable information about the implementation of Jean Monnet modules, established contacts with other coordinators as well as her personal impressions.
Viktoriia Meniailo, task manager, chief of research unit in ZNU, informed that the curriculum of the course "Basics of European Project Culture" had been developed. The objective of the course is to form graduates and postgraduates' project competences how to develop and implement research and innovative projects in accordance with the norms of European project culture and to provide them with necessary methodic tools that will help them to fulfill any research and innovative tasks in their future career. Within the Concept of Project Activities Development in ZNU the project participants decided to offer Scientific and Methodical Council in ZNU to introduce the course "European Project Culture" for the undergraduate students. Moreover, the corresponding curriculum is intended to be developed as soon as possible.
During the budget discussion Oleksandr Gura, vice-rector for scientific and educational work, initiated an issue to direct some of the project budget to modernize ZNU facilities. In particular it was totally agreed to equip a specialized room for the project in the main building.
An important part of the project implementation is its assessment. Olena Tupakhina, associate professor of German Philology and Translation Department, informed about the methods of surveying and assessment criteria of quantitative and qualitative indicators of EUROPROC project results as well as students' success evaluation.
The website of the project www.europroс.znu.edu.ua will greatly contribute to its openness and transparency. Yurii Kaganov, head of Postgraduate and Postdoctoral Department, presented the website structure. The website will start to work in mid December. The project advertising is an immanent element of the project implementation. Natalia Voronova, rector's assistant, reported about the project advertising strategies.
At the end of the meeting Viktoriia Meniailo, as a task manager, summed up underlining that all the tasks for September -November had been fulfilled by the staff members. Therefore it allows to implement the next stage of the project that is to introduce a specialized course for the first year graduates of the biology faculty.
All the participants stated that the successful implementation of the project "European Project Culture" initiated under the Jean Monnet Activities within the ERASMUS+ PROGRAMME will contribute to further project activities in Zaporizhzhya National University and to develop its national and international image.
01.12.2017 08:18:00